---
Mark Clarke - New Releases


Moving To The Moon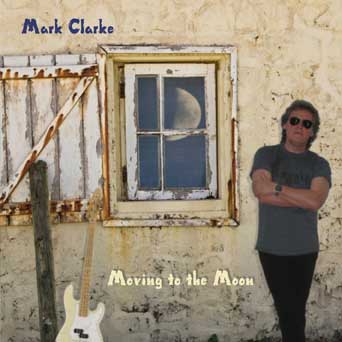 The first album from the veteran bass player from Colosseum, Uriah Heep and Natural Gas (with Joey Molland of Badfinger and Jerry Shirley of Humble Pie) has been a long time coming. After 40 years of his friends and fans asking for a solo album - here it is. And it's a masterful collection of extemely well recorded and performed tracks that rival any from the bands he's played in.
From the opening track right through to the closer this album begs to be listened to over and over again and even memorized note for note. I've had the pleasure of hearing it more times than most people would hear almost anything in their collection and it keeps getting stronger with each listen. We're very proud to be the exclusive distributor of this album from one of the nicest and most talented guys in the world.
Dean Sciarra - ItsAboutMusic.com
Songs on this album are:
1. One Of These Days
2. A Cowboy's Song
3. Without You
4. Modeleine
5. You Save The Day
6. The Falling
7. Heaven and Hell
8. Movin' to the Moon
9. Then Forever Comes
10. A Little Something
Natural Gas
All new digital remastering - Aug. 2010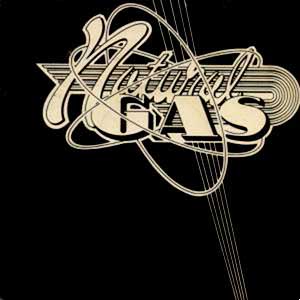 Songs on this album are:
1. Little Darlin'
2. Once Again, A Love Song
3. You Can Do It
4. I've Been Waitin'
5. I Believe It's Love
6. The Right Time
7. Christmas Song
8. Miracle Mile
9. Dark Cloud
10. St. Louis Blues
Buy both albums from
It's About Music
---
John Sloman - Reclamation CD
John Sloman released a new album on CD. The album is called Reclamation, and can be purchased through John's Official website.
---
Ken Hensley - Blood On The Highway LP Release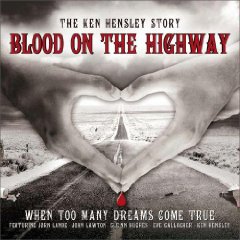 Ken Hensley's Blood On The Highway album is released on vinyl LP on September 4th, 2009. It can be purchasd on Amazon.de.
---
URIAH HEEP - Celebration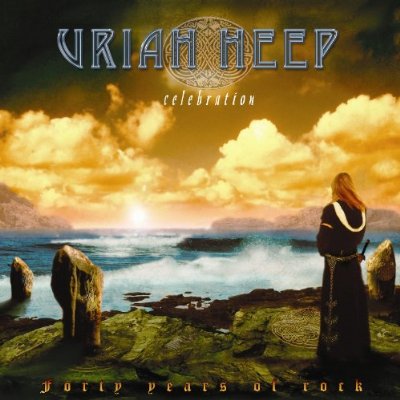 NEW MANAGEMENT, NEW TOURS , NEW 40TH ANNIVERSARY RELEASE AND NEW ARTWORK

FROM MICK BOX

Well I do apologise for this information coming late but we have been waiting for the contractual business side to be taken care of before we made the announcement.

We saw a window of opportunity to go into the studio and do some recording to celebrate our upcoming 40th Anniversary. We have re-recorded some of the classic Heep tracks, added 2 new songs written by Mick & Phil and we are looking at a short bonus DVD of songs that we recorded when we headlined the first day at this years Sweden Rock Festival. Ioannis has jumped at the opportunity to create the cover artwork and we are very happy that he is involved and it will be a continuation of the quality of work that he showed us on Wake The Sleeper.

The 14 tracks (12 old & 2 new) were recorded in 8 days in Leighton Buzzard at Martin Darvill our managers studio. Once again we used the template of playing the tracks live. This enabled us to record the tracks in the allotted time as playing them live really speeds up the recording process and I feel the band is at its best when we are firing on one pulse. Plus it gives the right balance of excitement and vibe that was required for this project. Mike Paxman picked up the baton once again and has taken on the Producer responsibilities and he has done a wonderful job of capturing the band in full flight.

We are all very excited about this CD and feel it is a good launch pad to celebrate our 40th Anniversary and a product that I hope the fans new and old will love. It will be released on the Edel label.


'Appy Days!
Mick

The album, named Celebration, will be relaesed on September 21, 2009, in 3 different editions, Standard (CD only), Deluxe (CD+DVD), and Collectors (CD+7in vinyl, signed by the band).


CD track list:

1. Only Human (new song)
2. Bird Of Pray
3. Sunrise
4. Stealin'
5. Corridors Of Madness (new song)
6. Between Two Worlds
7. The Wizard
8. Free Me
9. Free And Easy
10. Gypsy
11. Look At Yourself
12. July Morning
13. Easy Livin'
14. Lady In Black
DVD track list:

1.

Sunrise




2.

Stealin'




3.

Gypsy




4.

Look At Yourself
5. July Morning
6. Easy Livin'
7. Lady In Black

Collectors Edition:
Two bonus tracks


---
URIAH HEEP - Sonic Origami Double LP Release


The Sonic Origami Double LP, limited to 500 handnumbered copies, double gold vinyl is to be released by the Night Of The Vinyl Dead label.
From the record company newsletter:
Dear friends and restless vinyl collectors!
It is time for Night Of The Vinyl Dead to adorn itself with an
absolute top shelf release!
URIAH HEEP - "Sonic origami" in a super de-luxe double heavy gold
vinyl, printed inner sleeves with photos and lyrics! Of course,
limited and hand-numbered to 500 pieces worldwide!
It comes of a totally underrated album from 1998 by Uriah Heep, a band
that should well be mentioned together with Deep Purple, Led Zeppelin
and Black Sabbath as the 4th wall of the British hard rock and Music
Hystory!!. This Lp features the same line up after 15 years and it
shows a mature band both from the technical and creative side. This
album comes for the very first time on vinyl in a good looking gold
double LP including the Bolder cover "Sweet pretender".
This was the only one missing vinyl in a 4 decades long discography:
if you miss it you are NOT a music lover!!!
JC
"Spellbinder"
NIGHT OF THE VINYL DEAD
---
THE NEW NADIR / ME AND THE OTHERS - Uncovered LP with inserts! (Feathered Apple FA 6514) will be out in around late July 2009.
First pressing will be limited to 500 copies only.
Groundbreaking split LP including 5 killer previously unreleased 1967 freakbeat/rnb/garage studio tracks by the legendary New Nadir featuring Ed Carter from San Francisco, California on lead guitar and vocals (pre The Beach Boys); Gary Thain from Christchurch, New Zealand on bass (pre Keef Hartley, and Uriah Heep); plus Peter Dawkins also from Christchurch, New Zealand on drums (the greatest record producer from down under).
The New Nadir have played some celebrated clubs in London such as the Speakeasy where they gigged a few times with Jimi Hendrix, who was supposed to produce their first record for the UK Polydor label, however after Ed Carter had received the offer to join The Beach Boys, the band split and nothing was ever released.
The five tracks by The New Nadir on this LP were recorded on Monday, August 28th 1967, at a professional Swiss recording studio near Zurich, and capture them in great mood at their fantastic first recordings. The songs range from top freakbeat/garage masterpieces (TOMORROW, as well as I NEED HER NOW), thru unique eastern influenced freakbeat tracks with raga riffs (BLACK SNOW), and onto the pop-art sound of PEOPLE ARE CHANGING, and the rambling rnb/freakbeat/garage guitar instrumental WALKING.
The LP is highlighted by the monster previously unreleased freakbeat track LOVE IS NOT A GAME, which was recorded by the pre-New Nadir outfit Me And The Others in November 1966, at Regent Sound Studios in London. This could easily hail as one of the greatest freakbeat tracks which was ever produced in the UK.
Me And The Others were a mid 60s beat/rnb/freakbeat band from Christchurch, New Zealand featuring Peter Dawkins on drums, and vocals (ex The Strangers); Dave Chapman on guitar, Gary Thain on bass (ex The Secrets, and The Strangers), as well as Paul Muggleston on lead vocals, guitar, and organ (ex The Secrets, The Dynamics, Atlantics, etc.). The LP is rounded out by 5 choice never before released live tracks from a Me And The Others gig in Germany that was recorded in January 1967: The amazing Graham Bond Organisation type of guitar - organ instrumental COMING HOME BABY, plus fantastic kiwi modbeat/garage/freakbeat versions of YOU BETTER RUN, HOLD ON I'M COMING, and CAN'T TURN YOU LOOSE, as well as the killer garage punk original track EVEN GREEN ONES.
Tracklist:
THE NEW NADIR
1. People Are Changing
2. I Need Her Now
3. Walking
4. Tomorrow
5. Black Snow
ME AND THE OTHERS
1. Love Is Not A Game
2. Even Green Ones
3. Coming Home Baby
4. You Better Run
5. Hold On I'm Coming
6. Can't Turn You Loose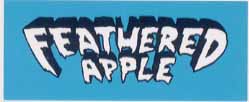 http://homepage.swissonline.ch/featheredapple/index.html
P.O. BOX 141
4007 BASEL
SWITZERLAND
FAX/TEL: +41 61 632 0184
EMAIL:
featheredapplerecords@balcab.ch
---